"If My people who are called by My name will humble themselves, and pray and seek My face, and turn from their wicked ways, then I will hear from heaven, and will forgive their sin and heal their land." 2 Chronicles 7:14 NKJV
It's here – the National Day of Prayer.  And oh how we need it!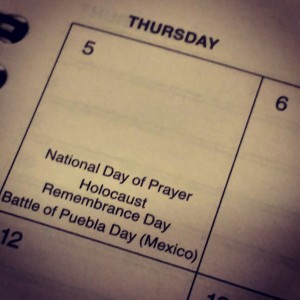 The National Day of Prayer is an annual observance held on the first Thursday of May, inviting people of all faiths to pray for the nation. It can also be found on most calendars – like mine. 🙂 This special day was created in 1952 by a joint resolution of the United States Congress, and signed into law by President Harry S. Truman.
Praying to the only God who hears, knows and is able to turn impossible situations around for the good, should never be taken for granted. He's a holy God. Our country was founded on prayer, our federal buildings and money has, "In God we trust" printed on them.
Yet, we find ourselves living in a culture that wants to exclude God. These days are very dark, and the Biblical Scriptures are being fulfilled.
Thank God that He loves us enough to want us to draw closer to Him, in prayer. Imagine that – direct communication with the God of the universe.
Check out all of the National Day of Prayer events going on around the country, and throughout the year, that can be participated in.
Let me encourage you to pray, and pray often. It changes things.
Thank you Jesus!