How many of us remember Gorton's fish sticks as a youngster growing up, and the "trust the Gorton's Fisherman" commercials? I do!  🙂
Well, Gorton's has truly expanded their seafood offerings these days. In addition to those delicious fish sticks they now have fish fillets – in crunchy battered and crispy battered – and POTATO CRUNCH!! They also have fish tenders, lemon herb fish fillets, grilled tilapia, fish fillet sandwiches and more. YUM!!
I was fortunate to be able to try out some of their products, like the potato crunch fish fillets, courtesy of Gorton's. I served the fillets with mexi-corn and french cut string beans – along with a seafood dipping sauce – and it was a very filling dinner that was also delicious, ready in 20 minutes and cost-effective. The family loved it!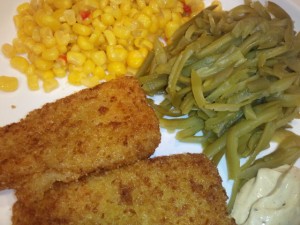 My friends at Gorton's have a lot of good going on these days. As a matter of fact, their new slogan is "Wicked Good Seafood". Check them out! If you go to Gorton's website, you'll be able to download a coupon, find recipes and explore their new product offerings. In addition, you can participate in their sweepstakes for a trip to Boston for a family of 4 (including airfare, lodging, activities and spending money!) BUT, you have to enter by the most fabulous day on the calendar — MY BIRTHDAY, October 18th.  😀
Here's the GIVEAWAY —
Leave a comment by 11:59PM EST on October 18th, stating which of the Gorton's products you'd like to use to make dinner for your family. What would you serve with it? Would you use some of their new products or their old, tried and true items??
Here's what one U.S. winner (randomly selected) will receive:
Three $2 off Gorton's coupons,
One Gorton's-branded ship wheel keychain,
An assortment of Gorton's recipe cards, and
Beautiful Seaside postcards – all delivered to your doorstep!
Lastly, be sure to check Gorton's out on Facebook, Twitter and Pinterest @GortonsSeafood to stay abreast of all of the excitement and new offerings going on over there.
Good luck Everyone!
Aleysha