Last fall, I posted about a new board game that's sure to make quality, family time a hilarious event. It's called "Say Anything". My family and I thoroughly enjoyed asking each other the questions on the card, and responding, by, well – saying anything! And talked about the good time that we all had for days!
Well, my friends at Northstar Games are at it again – working on bringing even more fun and laughter to your home! They're launching new question cards for their games (Say Anything, Wits & Wagers or Crappy Birthday), and they're looking for some great questions from people like YOU!
These Say Anything cards will generate laughs in hundreds of thousands of homes across the country.  How often will you get a chance to have your fun questions published for a game?!
Here's what you need to do:
Post your card questions on their Facebook page;
Tell them that you heard about it on Aleysha's Lifestyle Cafe blog;
Enter no later than Sunday, July 8th, 2012 at 11:59pm EST.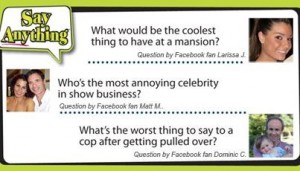 Winners will receive a pack of all 3 of their new game cards!
Good luck!!