This past Sunday, Target launched their Jason Wu for Target line. I went to my local store before getting ready for church service and bought 5 pieces from his line. They were the exact items that I wanted as I previewed the line, waiting for it to launch.
Here's what I bought –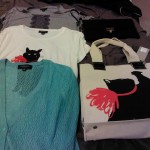 Now, add in a few basic staple pieces of clothing, like a black skirt, black pants, jeans, a black cardigan and a denim jacket – and here's what you get!
A few items, a full wardrobe!