" Then Jacob awoke from his sleep and said, "Surely the LORD is in this place, and I did not know it."" Genesis 28:16 NKJV
I'm a very proud "East Coast girl". I'm a native of the great state of Maryland, and I live in the part of the state that's also called "Metropolitan Washington, DC". I've never desired to move away from this mid-Atlantic region because – I'm an East Coast Girl.
Well, this past week, we East-Coasters have had some very turbulet weather. Some may even say, "We don't have that kind of weather here." On this past Tuesday, we experienced a 5.9 earthquake and just yesterday, Saturday, we had Hurricane Irene pay us a visit. An earthquake and a hurricane in the same week.
While many people may want to complain about the weather altering their plans for travel or outdoor activities; complain that their electricity may be out; and/or complain that they've been inconvenienced. Did they miss God?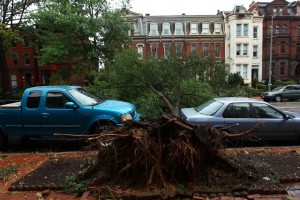 2 Corinthians 12:9 says that God's grace is sufficient for us and that His strength is made perfect in our weakness. While we couldn't prevent the earth from shaking or the hurricane from blasting us with 80 mile per hour winds and enough rain to cause floods, God had His people covered with His grace. And if you look closely enough, you'll see that He showed up and kept our houses from crumbling to the ground. He kept us from experiencing great losses, He kept us alive to see another day, and most of all He kept our minds intact.
Complainers can't see God, and a complaining spirit will cause you to miss Him every time . But the LORD WAS HERE*, did you miss Him?
(*Not referring to the second coming of Christ.)