On yesterday, I hosted a bridal shower at my home – and the star of the celebration food wasn't the lovely bakery bought sheet cake, but the cupcakes that I made for the first time!
I love cupcakes just like most people, and for whatever reason, I decided to make jumbo, gourmet cupcakes for a bridal shower and didn't bother conducting a "dry run".
Here's what I started with;
Yes, I did use boxed cake mix; 2 flavors – yellow and lemon. I made them in jumbo cupcake pans – more space to do my frosting, I thought.  🙂
Now, let's move on to my homemade icings…
Let's start icing these beauties, and by the way, it was also my first time using an icing/cake decorating gun that you see in the far right…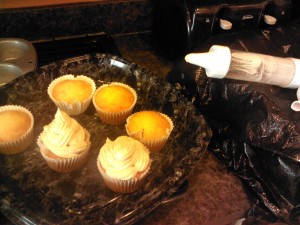 And the end result is…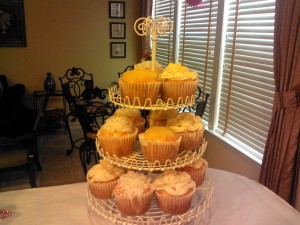 A tower of 18 georgeous cupcakes with Pineapple, Pineapple & Coconut and Lemon Cream Cheese frostings/toppings. The guests ranted and raved about how beautiful they were and how they look like they came from one of the popular cupcakeries. Some of the guests ate their cupcake before having the entrees, or even the sheet cake that was made in a bakery!
Eighteen jumbo, gourmet cupcakes and ten guests and I had to snatch one up before they were all gone…
I knew that I could do it!  🙂