Excerpt from "Jazz, Java & Jesus: Christian Devotions to Soothe Your Soul".
Psalms 23:6a "Surely goodness and mercy shall follow me all the days of my life!"
     I once heard a pastor say that God's goodness will give you the blessings that you don't deserve and His mercy will keep off of you the punishment that you do deserve!
     God's goodness is described as His bounty (prosperity, provisions and richness) to whomever He chooses to show His goodness to.  In many scripture passages, we see God's goodness AND His mercy showing up at the same time.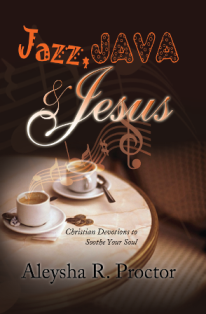 In 2 Samuel 11, King David has taken another man's wife (Bathsheba) and she conceives a child by him while her husband is away on the battle field.  David then brings her husband home and tries to get him to go home and spend some time with his wife.  When Uriah, her husband, doesn't do as David hopes he will, he then has him placed on the front line of the hottest battle to make certain that Bathsheba becomes a widow and then he can have her as his own wife.
     When the prophet Nathan spoke to David about his sins in 2 Samuel 12, he spoke in a parable about a rich man with many flocks taking a poor man's one little lamb for his own. King David becomes angry and says whoever has done this will surely die!  And Nathan said, "King David, you are that man!"  He then points out how God has been GOOD to him by saying in verse 7, "Thus says the LORD God of Israel: 'I anointed you king over Israel, and I delivered you from the hand of Saul.  I gave you your master's house and your master's wives into your keeping, and gave you the house of Israel and Judah. And if that had been too little, I also would have given you much more!"  Get that!  God said if after all of the blessings I've already showered you with wasn't enough, I would have given you MUCH MORE!  That's God's Goodness giving David things that he didn't deserve!
     Then here comes God's mercy towards David, in verse 13b it says, "And Nathan said to David, "The LORD also has put away your sin; you shall not die."  That's God's Mercy – keeping the punishment that he did deserve away from him!
     It's no wonder that King David said in Psalms 23, "SURELY, goodness and mercy shall follow me all the days of my life!"  Surely!  As in being a done-deal.  Imagine that!  As we go about in our daily lives, God's goodness AND mercy are following right behind us!  God showing His goodness by giving us what we don't deserve, and extending His mercy to us by keeping off of us what we do deserve. 
     As a Believer in Christ, it's not either goodness or mercy, it's BOTH!