Good News in a Bad News World
If you've liked any of my four previous books, "With Style & Amazing Grace", "He's the Keeper of My Soul", "Jazz, Java & Jesus", and "Inspired to Move Forward", then you're going to love Good News In a Bad News World!
This new book is filled with some of the most quoted, most tweeted and most shared passages of my books that people from around the world have said helped and inspired them to keep moving forward in their faith journey. Also included are some new inspirational nuggets and I'll show you Jesus in all 66 books of the Bible — all of them — from beginning to the end! Good News In a Bad News World also shares with you many of the different names of Jesus, and many of God's different names. I'll bet whatever you need, it's wrapped up in His names.
You don't have to go looking for bad news, trust me, it will find its way to you. Allow me to share some GOOD NEWS with you!
Inspired to Move Forward
Is a book about God's faithfulness. There are modern day and biblical accounts of when people were faced with some of their toughest battles, and yet, they still came out victorious Many of the chapters come from the author's writings for an online faith-based magazine. The chapters are short and easy to digest so that the reader can easily apply the principles in their own lives right away.
There's also a "Where to Find It In the Bible" section so that the reader can start kingdom-living. It's said that the kingdom of God is voice-activated. You're going to have to say with your own mouth what God says about you. You'll be encouraged to know that for every problem in life, there's a promise from God.
Jazz, Java & Jesus
Writer's Digest gave Jazz, Java & Jesus 5 STARS!
It's a book of Christian devotions to soothe the weary soul. Along with crossword, word search and word scramble puzzles. As shown  in previous books, Jazz, Java & Jesus reaffirms that you are important to the Lord!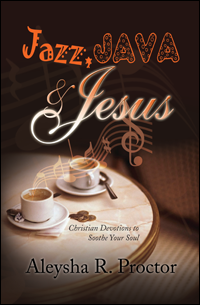 He's The Keeper Of My Soul
What would you do if you knew that you could not fail? How would you feel about yourself if you KNEW that the God of the Universe is crazy about you?! How would your life be different? So many people live their lives thinking if only I were smarter, if only I were thinner, if only I were richer, if only I were more educated, if only, if only, if only. You fill in the blanks. If only _____, then my life would be better or complete. But the truth of the matter is that the Lord is so in love with you, that He ll give you what you need and what your heart desires as long as it s according to His will, for you to live a fulfilled life here on earth. A lot of people spend years and years of their lives searching for meaning, love and happiness. There s a God-sized void in EVERY human being that can only be filled by God Himself. You will always feel as though something is missing until you surrender your life and your will to the Lord and get to know Him on a personal basis. In He s the Keeper of My Soul, we ll walk through scriptures to show you just how smitten God is with you, and you ll be able to see how He sees you! It doesn't matter if the year is 2008 or 8008, the Bible is still relevant in our everyday life. King Solomon said, There s nothing new under the sun. Meaning, any economical, social, political or personal issue that we re experiencing in our current day, has already been experienced in the past. And the Bible has an answer for it!
I truly believe that the B.I.B.L.E. is the Basic Instructions Before Leaving Earth manual it s a basic instruction guide for living on this earth TODAY! Allow me to speak a word of life to you by saying that YOU RE VERY IMPORTANT TO THE LORD! What could be more important than that?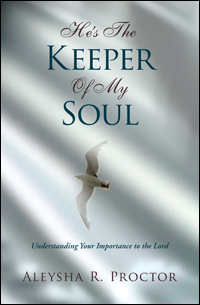 With Style & Amazing Grace
AWARD WINNING BOOK!
Do not let your adornment be merely outward arranging the hair, wearing gold, or putting on fine apparel 4 rather let it be the hidden person of the heart, with the incorruptible beauty of a gentle and quiet spirit, which is very precious in the sight of God. 1 Peter 3:3-4 (New King James Version) Embrace a more balanced lifestyle. One with style, grace, rest and purpose. It's the kind of life that God blesses, and in turn, you're able to bless others.