Aleysha Proctor is a Christian Inspirational Author, Speaker, Lifestyle Blogger, Radio show Host, and award-winning entrepreneur. She has won numerous awards in the business community; such as Director of the Year, Landmark of Achievement, Executive Council Member of the Year and many others. In 2007, Aleysha won the Entrepreneur of the Year award from the Washington, DC Chapter of the National Black MBA Association, Inc. And in 2008, she won Aspicomm Media's Best Spiritual/Inspirational Book award for her first title,"With Style & Amazing Grace". Aleysha has authored five inspirational books (all non-fiction) With Style & Amazing Grace, 2007; He's the Keeper of My Soul, 2008; Jazz, Java & Jesus, 2010; Inspired to Move Forward, 2013; Good News in a Bad News World, 2013.
As a blogger, she's partnered with some Fortune 500 companies and household brand names for various types of promotions for her readers. As a speaker, Aleysha has spoken at faith based and business conferences and events around the country for nearly a decade. Aleysha has been quoted and/or featured in the following publications on topics such as business, literary, image & lifestyle; Black Enterprise, Lucky, Prince George's County Suite, Washingtonian Empowering Women, Empowering Everyday Women, The Washington Post, The Baltimore Sun, Times Square in New York City. She hosts her own radio show on WLVS Radio, "Inspiration for Life", on Sundays from 3-4pm EST which is heard and seen in over 135 countries at www.ListenVisionLive.com. Aleysha resides in the Washington, DC metro area. Visit her online at www.AleyshaProctor.com
Proctor continues to inspire and encourage us to reach for a relationship with God and for the Love that God has for all of us. Continue to use the gift God gave you to write and inspire of us all.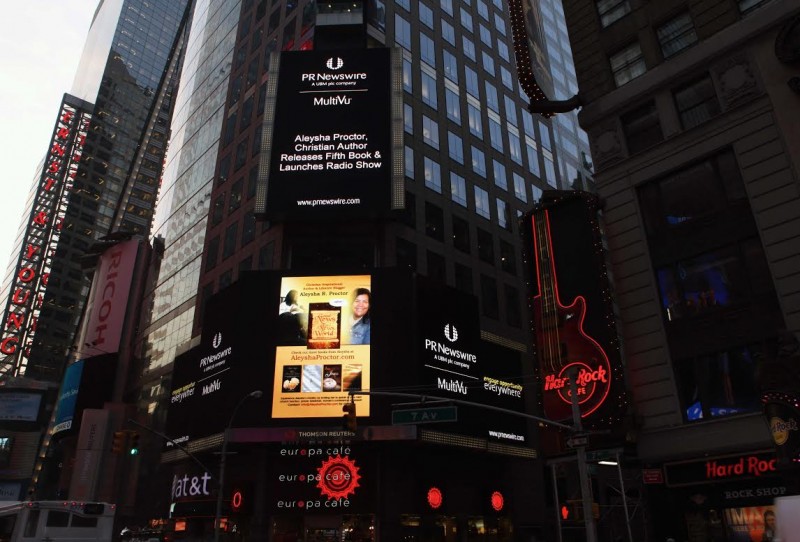 ---
Click cover to download PDF press kit (which includes Aleysha's bio). You will need Adobe Reader to download the file – or you can view it by clicking here
---
Hear Aleysha during her 2013 book tour on Blog Talk Radio interviews
---