"Now the wall of the city had twelve foundations, and on them were the names of the twelve apostles of the Lamb.  And he who talked with me had a gold reed to measure the city, its gates, and its wall. The city is laid out as a square; its length is as great as its breadth. And he measured the city with the reed: twelve thousand furlongs. Its length, breadth, and height are equal.  Then he measured its wall: one hundred and forty-four cubits, according to the measure of a man, that is, of an angel.  The construction of its wall was of jasper; and the city was pure gold, like clear glass.  The foundations of the wall of the city were adorned with all kinds of precious stones: the first foundation was jasper, the second sapphire, the third chalcedony, the fourth emerald,  the fifth sardonyx, the sixth sardius, the seventh chrysolite, the eighth beryl, the ninth topaz, the tenth chrysoprase, the eleventh jacinth, and the twelfth amethyst.  The twelve gates were twelve pearls: each individual gate was of one pearl. And the street of the city was pure gold, like transparent glass." – Revelations 21:14-21 NKJV
I recently had the pleasure of going to the Smithsonian's Museum of Natural History – and by invitation only – going into the vault.
Inside the vault were all kinds of precious stones. Some, of which, will never be seen on display to the visitors of the museum. There were rows and rows of card-catalog type drawers as seen in the libraries, filled with various fine gem stones. Precious stones – created by God, not by man.
Each stone had its own story and left you still in awe of it, before it was time to move on and see the next one.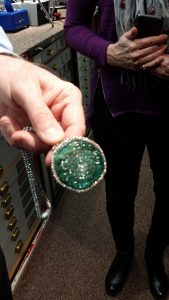 The above passage from the Bible, the book of Revelations, clearly lays out the description of the New Jerusalem. A city prepared by God. I've noticed that whenever I read in the Bible where God gives instructions for how things are to be built, He gets down to the nitty gritty of the details. Absolute precision.
And while people fight and do dangerous things to get their hands on these precious (and expensive) stones down here on earth,
God has stated in the scriptures, that we'll be walking on streets of pure gold, and the walls made with all kinds of breathtaking gems and stones.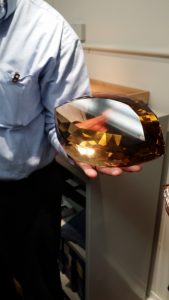 A Citrine, in the shape of a football – weighing more than 20,000 carats!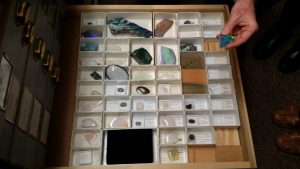 Card catalog type drawers filled with fine gems.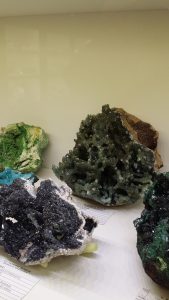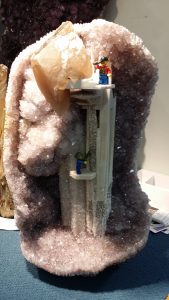 LEGO men inside of a huge geode
His ways are so much higher than our ways. Be blessed!