As you all know, I'm getting ready to launch my 4th book, Inspired to Move Forward, in a couple of weeks! I'm so excited!!
What you may not know is that I'm a self-published author and all of the behind the scenes action to get my book noticed is done by yours truly.  🙂  That's not too big of an issue for me since I studied and enjoy marketing. I'm currently meeting with various publicist to see if I'd like to have a professional help me with things that I may be overlooking, or with the vast resources available at my fingertips, through the internet, will I keep moving forward (no pun intended) with my plan myself.
Here are some of the things that I'm doing – in addition to my book launch event – (some of these were done with the help of other professionals, thank God!) –
The book cover –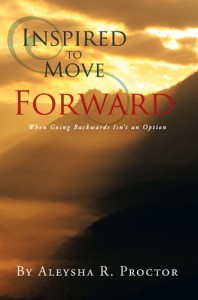 The book trailer –

The book blog tour –
The press release –
A fabulous author's work is never done …  🙂  Be sure to get your copy!