Do good things really come in small packages? Well, they can. And in this case it does – and not only are the good things in the box, but the good keeps going.
Faithbox, is a fairly new monthly subscription program that combines faith based products  (books, cards, journals, devotionals, etc.) with organic snacks and beverages (herbal tea, organic coffee and the like.) AND what happens next is one of the best parts – for each box that's purchased  they donate meals to hungry children in Christian orphanages. Amazing.
So, what type of goodies are in the box? I'm so glad you asked –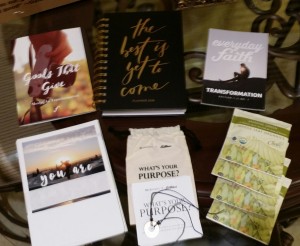 Next, you have an array of products to help build and grow your faith. Their devotional booklet, Everyday Faith, is a monthly collection of modern Christian devotionals, which is short and easy to read. A definite treat to the reader.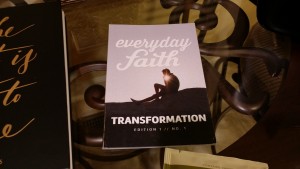 I found their 2016 Planner (The Best is Yet to Come) to be delightful! It's filled with Scriptures, and pages to write down your prayers and what you're believing God for. There are also pages to write down the names of people that you'd like to pray for, things that you need to start budgeting your money for, and so much more.  #Winner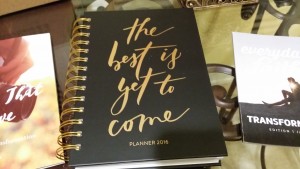 They even have gift subscriptions available. Do you know someone who's new in their faith walk, who could really grow and benefits from receiving a box of faith based products each month?
I was just so excited to learn about Faithbox, and I'm grateful that they've sent me a box to review – so much so, that I've bought my own subscription. I can't tell you how much I'm looking forward to getting this box each month (product selections vary each month) – AND to know that I'm helping to provide meals for hungry children. (Thank you for the opportunity to help out!)
I'd love for you to try this product too – and now you have a chance to win a FREE box! Thanks Faithbox!
GIVEAWAY!
Here's what you need to do for a chance to win –
Leave a comment here on this blog post telling me why you'd like a Faithbox, AND
Leave a comment on my Instagram page (look for the picture of the Faithbox), telling me there as well, why you'd like to have this box coming your way.
BONUS ENTRY:
Listen/View my radio show, Inspiration for Life, on this coming Sunday, February 21st at 3pm EST and leave a comment here on the blog telling me the name of 1 of the songs that I played on the show.
The deadline to enter to win is Monday, February 29, 2016 at 11:59pm EST. One winner will be randomly picked from the entries. U.S. entries only, please.
Go for it, you'll be glad that you did! 🙂