On November 18th, my sister Anjela and I went to the ICE exhibit at the Gaylord National Harbor, MD. Even though I originally thought it was just for children, I had to see what all of the hoopla was about.
After making our way through the Dr. Seuss picture gallery (love him!), it was time to get our parkas and go into the deep freeze of the ICE exhibit, where the temperature was said to be 7 degrees! Oh my!
When we entered, we expected to see the Grinch and the Who's from Whoville, in solid ice chiseled to perfection!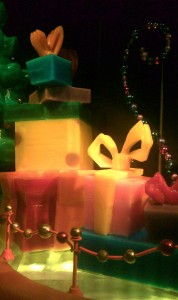 And we saw just that! Tons and Tons of ice, in all different colors, shapes, sizes and objects.
As we neared the end of the ICE exhibit and saw the big "THE END" sign written in typical Dr. Seuss fashion, we continued to make our way to the exhibit — and what we found left us in total AWE!
The Gaylord National and the sponsors of the ICE exhibit (Coca-Cola) didn't leave Christ out of Christmas!!! Hallelujah! In a society that wants to teach our children everything but about Jesus Christ, I was so overwhelmed with joy that I had to tweet about it as soon as possible (and @GaylordNational retweeted me.)
Look at what we saw!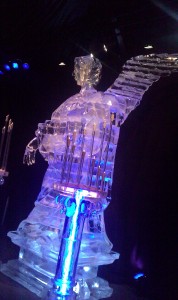 There was also an angel who had to be about 10 feet tall! Must have been a replica of the archangels Michael or Gabriel.  🙂
And if that weren't enough – as you finished making your way through this heavenly ice exhibit and stepped into the warm gift shop, where someone awaited you to take your parka – there were Christian souvenirs!!! What?! I was almost in tears at the adoration of the Santa figurines –
I just can't tell you how overjoyed I, and the other extremely pleased Christian visitors, were that night. I'm just so glad that He's not forgotten!  He's the reason for the season.
(You can see the ICE exhibit for yourself until January 9, 2011. Visit the Gaylord's
website
for more information.)