Last month, the National Mall in Washington, DC had a slew of visitors. People bused and flew in from all over the world, landing on the District. All proclaiming that "Jesus Changes Everything!"
Reset 2016/Together 2016, is a modern day Gospel crusade, filled with young adults. They came on a sweltering hot and sticky day to the Nation's Capital. The event had been slated to go from 9am – 9pm, however, due to the extreme heat, the Park Services and DC Fire Department advised the event coordinators to close down closer to 4pm.
This was a day where many well known evangelists such as Francis Chan, Christine Caine, Ann Voskamp, Dr. Tony Evans and many others came to proclaim the Gospel of Jesus Christ. They all told the vast crowd that there's hope in Jesus, put your trust in Him. The musical entertainment (and further proclamation) was brought by Casting Crowns, Lecrae and other recording artists.
I was there as a Ministry Partner (Inspiration for Life Radio) and as a volunteer to pray for those who came forth for prayer, including salvation. And boy, let me tell you – it was HOT – both temperature-wise and spiritually.
There were people as far as the eye could see, both to my left and to my right.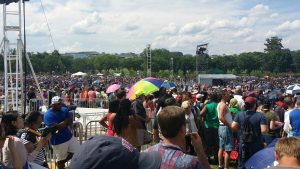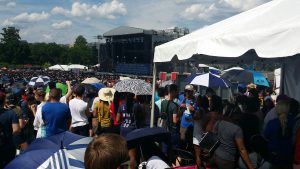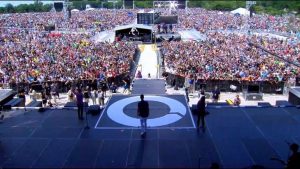 And the crowds extended beyond the gates that surrounded the venue, onto Constitution Avenue –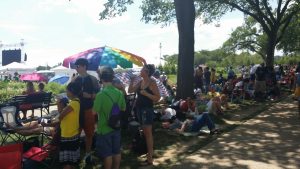 And then there's this social media thing – #JesusChangesEverything (the social media hashtag for the event) was trending in the #1 spot on Twitter –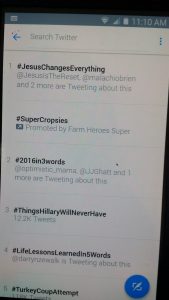 This was revival. Modern day evangelism that extended beyond the gates of the National Mall, proclaiming the Gospel of Jesus Christ, and offering fervent prayer for our country and world. It was like a drink of cold water during a heatwave (no pun intended). It was refreshing, it was an awakening for many, and it was the truth for everyone. And I'm so honored and glad to have been a part of it.
Visit Reset 2016 to learn more about future events and to follow them on social media.