On a Saturday in early November, I met up with Bailey Sessoms and some other fashionistas at my favorite "vintage glamour" store, Saks Fifth Avenue in Chevy Chase, MD (I like this one better than the other location) for an afternoon with CHANEL.
I was very pleased to arrive for a day of make-up, fashion & lunch to have my place setting personalized with my name! It's the simple things.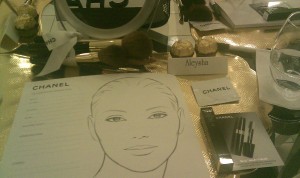 We sat in our designated area while the CHANEL experts told us how to wear "the CHANEL jacket" and classic CHANEL purse, as models walked among us demonstrating as we enjoyed our lunch.
Then, to my surprise — I was selected as the model for the skin care and make-up demonstrations. Lucky me – all new CHANEL colors for the holidays!! (Now, keep in mind, I'm a CHANEL cosmetic junkie – and usually spend $$ with them for every new color season.)  🙂
Here's me BEFORE: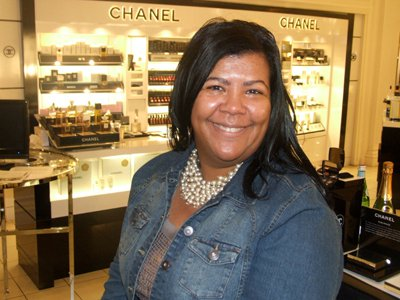 And here's me AFTER: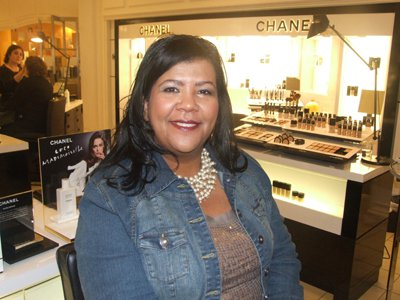 I think that I like the before better. At any rate, God has been extremely good to me! I've gone to other sit-down luncheons with CHANEL runway fashion shows at Saks Fifth Avenue. I've had dinner at exclusive events (several of them) in Neiman Marcus. And Audrey Hepburn (and I'm a big fan of hers) has nothing on me! I've had breakfast at Tiffany's. The only difference is that I wasn't outside looking in the store window with my coffee and danish that I bought with me, like she was. I was inside having cappuccinos and croissants with Tiffany & Co.'s corporate executives and other guests while the store was closed to the public.
It's MIGHTY nice being a woman of style (and the favor of God)!  😉