And He said to them, "Go into all the world and preach the gospel to every creature."
Mark 16:15 NKJV
As 2014 draws to a close, I'm mindful of all of my blessings throughout the year. I remember that the year didn't start out so great for me, as I brought in the new year in the hospital. However, even while I was there, I still counted God to be faithful to His Word, and I still fully considered Him to be my Healer.
Nevertheless, it's not always what God can do for us – but what about what we can do for Him?
After Jesus was crucified (for our sins, not His) – and rose from the dead, He visited with the eleven remaining disciples. And there, before ascending into heaven and sitting down at God's right hand – He issued the Great Commission (to all of His disciples, past and present):
And He said to them, "GO into all the world and preach the gospel to every creature. He who believes and is baptized will be saved; but he who does not believe will be condemned." Mark 16:15-16 NKJV
When I began my online radio show (radio that you can watch), Inspiration for Life, a little more than a year ago, I wasn't quite sure what we would talk about each Sunday at 3pm ET. Not only do my sister and I appear in the studio each Sunday afternoon, but I also write the content for each show. Again, I wasn't quite sure what, exactly, we'd talk about – but I knew somehow, someway we'd be talking about the Gospel of Jesus Christ. And that's exactly what we do.
Each week the radio station sends me the show's stats after each show, which lists where people in the world are tuning into Inspiration for Life. And as the 2014 closes, I'm brought to tears as I see some countries (that I can't pronounce) are tuning in to hear us say, "Jesus loves you, and He died to save you, and He's the only way to get to God the Father."
Here are the countries who we've shared the Gospel with this year – (click the image to enlarge)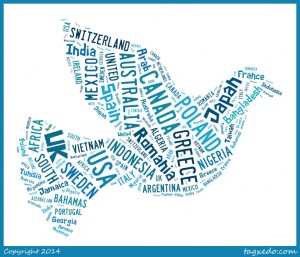 Glory to God, and thank you for tuning in!