Most people who know me, know that I thoroughly enjoy coffee. And in these hot and sticky summer months — let's make that an iced coffee, please.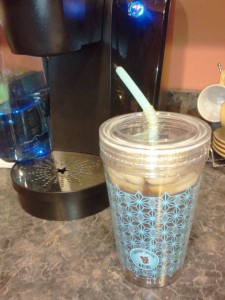 I was recently at the BlogHer 13 conference and my friends Brew Over Ice were there! Yippeeee!!! I'm very fond of my Keurig coffee maker, and was already enjoying their iced coffees and iced teas at home. However, with their HUGE display booth with the life-sized drip tray, I had to try out some of the flavors that I didn't already have at home. Right?  🙂
Here's what I found out —
I am madly in love with the Snapple Lemon Iced Tea!! And I'm not a fan on their iced tea in the bottle – but this version of their tea is amazing!!
I also love the Snapple Peach Iced Tea!! Delish!
I also really like the Dunkin Donuts Iced Coffee – this is a real treat!
If you like the taste of soy milk (which I don't), then you'll like the Sweet and Creamy Iced Coffee.
Now, you know that if I love it, then I want to share it with my readers. Fortunately for me, Brew Over Ice is going to send one of my lucky U.S. readers a prize pack which includes;
3 Brew Over Ice K-Cup® samples,
a Brew Over Ice tumbler,
4 Brew Over Ice coasters,
plus a Brew Over Ice light-up ice bucket and tongs
Not sure what Brew Over Ice is – check out their video and download a $2 off product coupon here! Also, check out their "Brew Over Ice Sweepstakes" with even more goodies to win here!
  HOW TO ENTER TO WIN: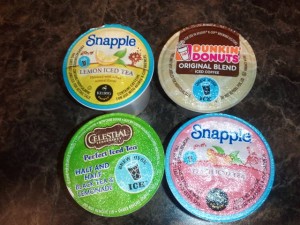 Leave a comment saying that you're now connected, and you'll be entered to win.
The deadline is 12pm EST on Friday, September 6th, 2013.
One winner will be randomly chosen.
Good luck!