"Whatever your hand finds to do, do it with your might."
Ecclesiastes 9:10a
I have to be honest with you; I've been craving more knowledge, information and understanding about blogging and being a better blogger. Last year, I attended one blogging conference – and it was fabulous.
As 2012 went on, I started to see more and more of my Twitter and social media friends enjoying other blogging conferences. And I wondered, why haven't I heard about these conferences until now, when it was too late to attend?
Well, now that blogging and social media are a regular part of life for millions and millions of people – there must be ten or more such conferences per month. I found a website that listed many of the upcoming conferences (www.MomCentral.com) via someone's tweet a few months ago, and I'm so glad that I did!
I printed out the list and found two very interesting conferences that I just knew that I had to be at this year. Blogher 12 – I've heard of that one, probably everyone has, but this year will be my first year there, and I'm so excited! I imagine that I'll meet tons of fast paced people who'll be live blogging & tweeting all day long. I also imagine that I'll need a few days when I get back home to process all that I've learned and figure out how to effectively implement my new found knowledge on my own site.

A fairly new conference, that I hadn't heard of before, but it's right up my alley is Allume (formerly known as the Relevant conference). This one is for Christian bloggers who write about their faith! Hey, that's me!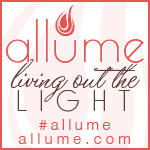 Allume is later this fall in Harrisburg, PA  and I can't wait to see what I'll learn and who I'll meet. I fully expect to take my blog and my writing (I'm also a Christian inspirational author) to new levels after attending these two conferences.
I think I'll start planning for, maybe even a few more conferences to attend in 2013. One day, I'll be speaking at them.  😉
Stay tuned!